Now we offer 5 ways
of making use of Fosbury & Sons:
- book a table for breakfast or lunch at Coffeelabs
- work & meet for a day (half day or full day visitor pass)
- book a meeting room
- have your office here (membership)
- come to one of our events
Ready to settle your office at Fosbury & Sons?
We still offer the same memberships (Club, Nomad, Resident, Atelier, and Suite), we've simply made a change to our day passes. Now, if you'd like to work with us on a day to day basis, you can do so by choosing a half-day visitor's pass or a full day pass. The difference: you'll be a spoiled member from now on, even if it's just for a single day.

A day pass, on top of the use of our stunning lounge, comes with a bite to eat and a drink, and of course, you're welcome to invite guests and clients over.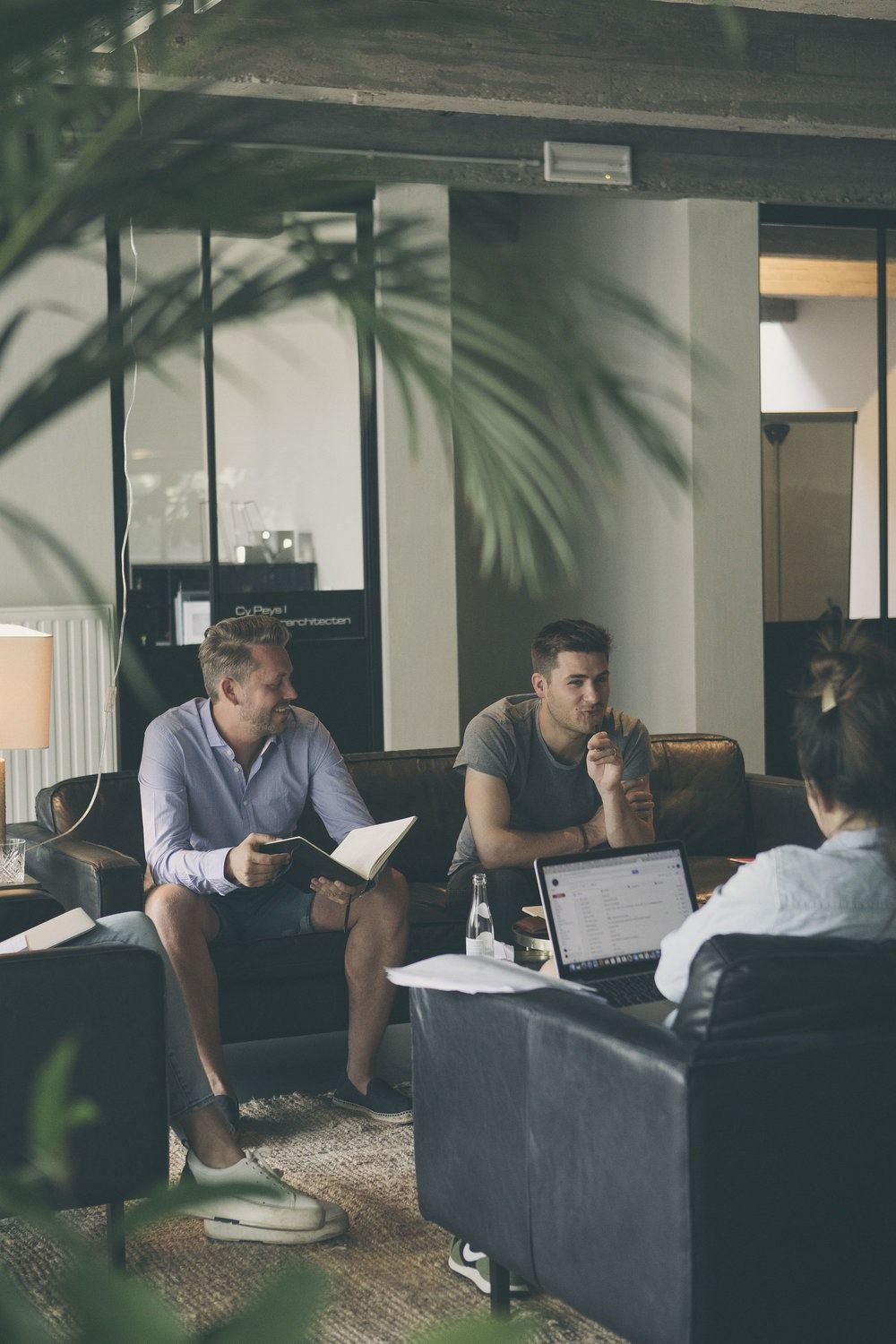 This doesn't mean that we're pulling up walls and shutting non-members out, quite the opposite, our new policy ensures that we get to know every individual that graces Fosbury & Sons.

Whether that's each day, a few days each month, or for a lovely breakfast or lunch from Coffeelabs. By implementing our new policy, we want to create an atmosphere of collaboration, a place where you can feel free to talk to anyone about your ideas, and have the space to not just grow your network, but your potential.
"This isn't a coffee bar where you can work, this is a workplace with damn good coffee."
When you choose to work in our lounge, you know that this isn't just a coffee bar where you can work. This is a workplace with damn good coffee. We aim to create an environment where each of our members can reach their full working potential by taking care of the little worries in life: We welcome your clients and guests at our front desk; we take care of your mail and packages, anything that doesn't fit in your personalised mailbox will be kept safe at the front desk; and you have the peace of mind that when you leave your stuff to go for a walk, a coffee, or to the bathroom our secure environment makes sure that your stuff won't go anywhere. We also have daily onsite cleaners to make sure that your environment stays in tip-top shape.
Above all, it's the human touch that matters most. When you choose to work at Fosbury & Sons or even come for a visit, it's clear that the people that populate our office have one very clear thing in common: GOESTING!—which is a beautiful Dutch word declaring our members desire to change their corner of the world.
That human touch also means that your friends, clients, family, and assorted beloveds are more than welcome to join you for breakfast, lunch, or some afternoon treats. Have a larger group of people in mind or not a member then book yourself a table to assure you of your spot in our lobby.
To sum up, as Fosbury & Sons, we've set out to create a space where working becomes easier than ever:
Serviced front desk welcoming you and your clients.
A Network of hard-working, innovative, and fun-loving individuals.
A professional environment to host your clients.
Dedicated workspace outside of the home or outside of the headquarters.
Benefit from our partnership reductions (Odettes Lunettes, Sennheiser, Samsung, Furnified, Lannoo, Luster, Bolides & Audi, Cafe Costume, ...).
Reduction on meeting rooms.
Prior access to events, workshops, and sports organised at F&S.
Coffee, tea, fresh fruit and purified water.
Personal touch: You're not a dime a dozen, we like to know all of our members.
At Fosbury, we're incredibly proud of the network of partners and members we've built. Becoming an F&S member is more than a list of services and benefits, it's a community of colleagues, entrepreneurs, innovators, and large and small businesses who are just as committed to work as you are. It's an opportunity to collaborate, exchange, and grow as both individuals and a community.
So, why not book a table for breakfast or lunch, make an appointment for a tour, or schedule a day pass and find out for yourself.
TESTIMONIALS FROM OUR MEMBERS
"Since 2016, the Efteling Bureau België has been located in the heart of Antwerp's city centre. After 11 years, we wanted to find a new location within a more inspiring environment, which we found at Fosbury & Sons. The principle of 'Working Alone Together' spoke to our small team. We enjoy sharing the communal spaces, as well as the lobby and we love the look of both our office and the shared spaces. We already knew Coffeelabs from their city centre location, and we love to grab lunch at their Fosbury location. We didn't expect to find an office this hospitable within Antwerp. From day one, it's felt like coming home."
Efteling Bureau België
"I'm not good with lengthy routines, a 9 to 5 schedule just isn't for me. I used to live and work in Norway, one of the biggest takeaways from living there was that variety promotes creativity and as a creative entrepreneur, you can't ever have enough of that! Fosbury's gorgeous interior creates the perfect atmosphere to welcome clients in—which is lovely for when I don't want to receive clients at home. I can even count on Fosbury for my business lunches and meetings, the changing menu is a welcome surprise, and you know that you're offering quality to your clients."
Anouk Taeymans
Civil Engineer & Architect / Creative entrepreneu
"In 2008, Bill Gates introduced the New World of Work, his solution to the growing changes in the labour market. According to Gates, independent working schedules, both time and location wise, are an invaluable tool in winning 'The War for Talent', as well as filling the needs and expectations of millennials. As an employee of Microsoft, we are given the autonomy to dictate our schedule and decide where we'd like to work from. Fosbury is one of the few places where I can be both at peace and get creatively stimulated.
I'm part of a virtual team and I don't need to work from the office any longer. I live in Antwerp, so on busy days, like Tuesday and Thursday, I prefer to avoid the Antwerp - Zaventem route. Fosbury offers me the benefits of working from an office within biking distance and makes sure I don't spend my entire day seated at the kitchen table with my laptop and only my cat, Hera, for company. Several of my colleagues who live in Antwerp have caught the Fosbury-vibe as well, so it's fun to be able to come together and work in this inspiring and beautiful environment. And if that isn't enough to convince you, then I'm sure the coffee and amazing lunch from Coffeelabs will."
"Investing in office space at Fosbury & Sons has produced several, rather unexpected results. We pay about 20 to 25% more than at our previous location, but to our great joy, the impact of working here has some far-reaching benefits.
+ Our current and prospective clients are instantly impressed when they come to visit us. It's not just about the location, but our choice to be here, they see it as a sign of ambition and respect, both to our business and our employees.
+ We think our clients think it's rather cool to say: "Our agency is located at Fosbury & Sons."
+ Some of the meetings that used to a drag to plan before have become much easier. We have a strategic advance because our clients love to have a reason to pop over to Fosbury & Sons.
+ We feel that our employees' motivation has risen two to threefold after our move.
+ We look forward to collaborating with the other companies housed at Fosbury since we have something in common: our location. The community that Fosbury actively sustains tears down mental walls between companies and it's exciting to think of the ventures that might evolve from this connection.
+ More creative energy. We can have a different spot for a different function: we work over here, we think over there, we have a talk over here, and we can have a bit of alone time in yet another spot."
Omakase
Digital Production Studio