Our
Second Home
Near the end of 2018, Fosbury & Sons will open their second location in our nation's capital. We've chosen a modernist masterpiece by Constantin Brodzki as our first Brussels space—7000 m2 of infinite possibility to deliver a unique office experience.
Our expansion into Brussels will cover 15.000 m2 of space and three locations, so your work commute doesn't have to suffer.
Three new locations in Brussels
We invited press, Fosbury residents, partners and friends over to share the vision we have for our three new locations in Brussels. We don't have enough words to describe how honoured we are to house our second location in a building by the hand of the late and brilliant architect, Constantin Brodzki.
This movie gives a little impression of the experience we are seeking in the office life. The office space will be able to host around 700 hard working and fun lovin' souls. To be continued ...
Movie by Beeldhouwers.
The Location
Our new location isn't just a milestone for us, it is a new path on the journey we have undertaken towards reinventing what an office can be, and it is a marker for our continued collaboration with Coffeelabs, Von Yellow, and Going East.
Furthermore we are excited to explore our new home and the city it is housed in. We are looking forward to new partnerships and collaborations with the crazy ones. For our three Brussels locations we aim to work closely together with those who know the city like no other.
We feel it is a city of opportunity filled with exciting people, hidden architectural gems, as well as gorgeous parks and forests.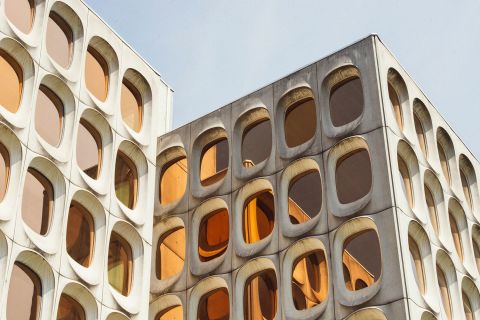 A love for
vintage, design, refined architecture, food and art are entwined within our DNA. We consider them the building blocks with which we want to improve not just the office experience of people, but their quality of life.
With this in mind, we wouldn't think of tearing down Mr. Brodzki's masterpiece. We will work with what is already there and only try enhance and once more unlock its past potential.
Thank You
We would like to thank Coffeelabs for the wonderful food and our continued collaboration; Von Yellow and Aurelie de Burbure for making this happen together; and Beeldhouwers and Jeroen Leurs for documenting our new path. Thank you Studio Labouche for their amazing work on the table decorations.
Thank you to everyone we aided us in making this happen.
Let's end
with a little throwback to those cosy dinners..
Our New Location
F O S B U R Y & S O N S
BOITSFORT
Chaussée de la Hulpe 185,
1170 Watermael-Boitsfort
Are you looking for a relocation of your company in Brussels?
Please reach out to mr. elliot@fosburyandsons.com
Opening location Boitsfort in november 2018.
Our upcoming locations in 2019
Our expansion into Brussels doesn't stop at one location, we are opening three locations in total, so your commute to work doesn't become a drag.